Irgendwann schreib ich hier vielleicht was Schlaues, sobald ich mir nämlich einen Reim auf Perry gemacht habe. Für mich wahrscheinlich der Kandidat, der am schwersten einzuschätzen ist. Stark gestartet, auf dem Papier ein echtes Schwergewicht mit Berührungspunkten zu den Tea Parties, den Fundi-Christen und auch zu Wählern, denen Regierungserfahrung und ein insgesamt recht solides konservatives Profil wichtig sind. Zudem im dritten Quartal sehr erfolgreich beim Eintreiben von Spenden.
Dann allerdings rapide gefallen in der Gunst der Basis ob seiner generell uninspirierten Debattenauftritte, einem höchst peinlichen - "Oops!" - Aussetzer auf der Bühne und seiner Politik gegenüber illegalen Immigranten (zu soft) sowie seiner Bemerkung, Kritiker derselben hätten "kein Herz". Mittlerweile soll laut Houston Chronicle (die sollten was von Perry verstehen) auch das Spendenaufkommen stark zurückgegangen sein:
Another Perry fundraiser said he expects the Texas governor to raise between $3 million and $5 million in the final three months of 2012 — less than one-third of what he generated in the first six weeks of his candidacy. Perry supporters say they may well raise less money than four other candidates: former Massachusetts Gov. Mitt Romney, former House Speaker Newt Gingrich, former National Restaurant Association CEO Herman Cain, and Paul.
http://blog.chron.com/rickperry/2011/11/perry-funds-dry-up-after-gaffes-and-dip- in-polls/
Ist er völlig erledigt oder können er, seine Werbespots und vor allem sein höchst professionelles Team das Ruder noch mal rumreißen? Hab seit der desaströsen Debatte - "Oops!" - keine Perry-Aktien mehr gehandelt, weil ich keine Ahnung hab, wohin für ihn die Reise geht und ob er in den verschiedenen Märkten über- oder unterbewertet ist. Für Zocker ist Perry in jedem Fall ne interessante Option, würde ich meinen.
Eines kann ich aber schamesrot sagen: Hab gerade den Wahlomaten des Daily Telegraph durchgeklickt und der Kandidat, der Wanlis Präferenzen am ehesten entspricht, ist tatsächlich (mit 62% Übereinstimmung) - Rick Perry.
http://www.telegraph.co.uk/news/worldnews/republicans/8876878/How-should-I-vote- in-the-Republican-Primaries-2012.html
Nun ja, Huntsman und Johnson waren leider nicht im Angebot und immerhin kam Bachmann bei mir an letzter Stelle. Trotzdem erstaunlich; wenn ich mal Wanlis Weltsicht mit der der GOP-Basis vergleiche, kann ich daraus nur schlussfolgern: Perry dürfte keine Chance haben.
Hier Perry und Kumpels bei der Christen-Debatte vom Samstag, die der Mann eigentlich hätte dominieren müssen nach seinem riesigen Gebets-Treffen vor einigen Monaten in Texas: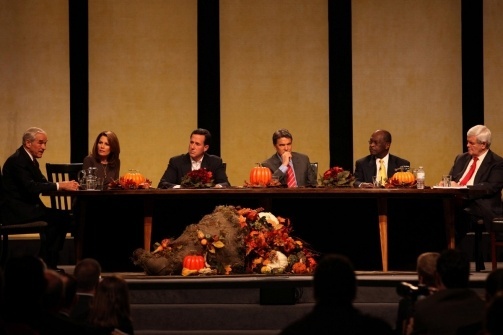 http://www.thedailybeast.com/articles/2011/11/20/gop-candidates-get-personal-at- the-thanksgiving-family-forum.html